If you take a quick peek over to the left side of this blog page... you'll see in my profile that I say I'm a 'SAHM.' What does that stand for you might ask? Well... according to my husband it stands for 'Sexy And Hot Mama!' Woohoo! He scored some major brownie points this Valentine's Day by giving me CHOCOLATE (because of what he read on my blog profile... go figure - ha ha ha!) and giving me his interpretation in a note on what he felt SAHM meant. Yup.... he's a keeper.

Valentine's Day was fun at my house. My girls ran through the door when they got home and BEGGED me if they could dive into their VDay treat bags from school. Why not? It's only once a year right? My younger daughter was VERY excited to give Valentines cards to everyone in the house - it was more fun watching HER face when I opened my card than actually GETTING it! My oldest daughter kept us busy with a 'heart hunt' game that she made all by herself! Hearts just kept popping up all over the house magically! LOL! She's a keeper too.

I've had so many nice comments left for me here.... (you guys are GREAT!)... and some of you mentioned that you couldn't find an email address for me and that you wanted to send me your layouts with my downloads. Soooooooo.... in all of my downloads from now on, I've included a contact page in there so you can send me examples of how you're using my freebies! Yay! I would, of course, LOVE to see how you've used them.

My friend, Silvia, (who many of you know as 'Phillsboo') is hosting a challenge over on her blog... so I joined in and created a layout using her latest freebies.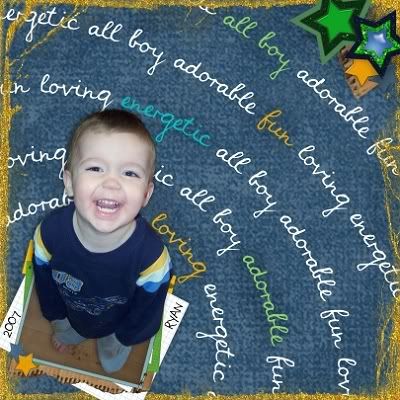 All of the gear in this layout was made by Silvia and was in her new 'Being A Boy' freebie - except for the glitter overlay which is by Irene Alexeeva and was recolored.

And as a nod to Valentine's Day (which is over.... **sniff sniff**) here is your freebie for the day:




I used Kim B's 'Floppys'... which are SO FUN to use in layouts! Hope ya like it. Here is the download link:
(This link has expired)