Wow! To say that I was 'surprised' with the warm response my blog received yesterday for my FIRST POST EVER is definately the understatement of the century! I am 100%
BLOWN AWAY
with the number of friendly comments, emails, downloads etc etc etc!
THANK YOU SO MUCH
for making me feel a tiny bit less awkward about this whole new 'blog thing.' (Ha ha ha! Notice I didn't say that I feel
comfortable
yet! That won't happen for QUITE some time... LOL!)
I wasn't sure if I would be blogging every weekday, or leaving some time in between posts.... (and I'm still not sure) but I HAD to blog today to say THANKS and to **sniff sniff**
CRY
and tell you all that you all
ROCK
!!!
So my quest for the day is to learn about google blog readers. Several of you mentioned to me that you use them to stay on top of when your favorite blogs are updated.... and that sounds
so cool
! (You're going to hear about ALL KINDS of things that are new to ME that you all have been using FOREVER - feel free to laugh..... but I'm not afraid to admit that I'm a novice! Ha ha!) I'm constantly clicking from blog to blog - trying to see if there have been any updates since my last visit. How cool to be updated automatically!!! I'm definately going to check all of that out.... let me know if you have any tips for me.
In case you weren't aware yet, the ever-so-fabulous
Kim Broedelet
has a new commercial use grab bag out right now. It's jam-packed with wonderful goodies (as always) and this week it's on SALE.... so GO, GO, GO! LOL!
Here is a 'hint' as to what is inside....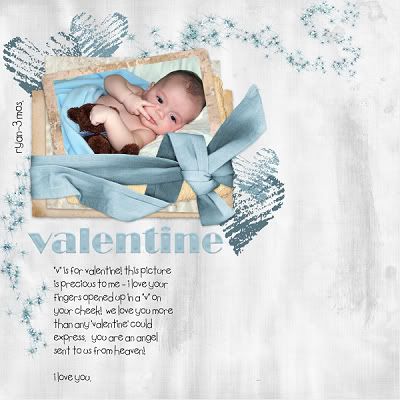 This layout does NOT show everything that is inside of it.... just a tiny tease. But I used several things from the bag. Isn't my little guy a cutie?! He's much bigger than that now.... but I have always loved this picture because he's flashing a little 'V' or 'peace sign' with his fingers! "V" is for "Valentine" this time of year right?
And because you all DESERVE it.... I made you another freebie for today. If you like the stacked cluster frame I used in my layout, it's yours! Snag it up here today as a 'thank you' for being one of the first to read my new blog!
Here is a preview: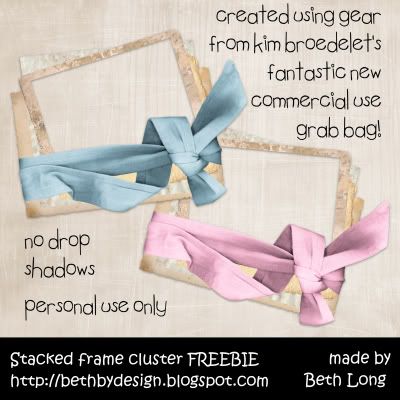 And I forgot to mention that they are .png files and saved at 300ppi.... but I'm guessing that you would assume that anyway right? LOL! Here is the download link:
(This link has expired)
Enjoy! See ya later!