Who knew I would be starting a blog? Me.... a BLOG?
Up until summer of 2007 I honestly **yes, I admit** wasn't quite sure what a blog was for! LOL! Well... now I have finally gotten an online education and have exited the stone age I suppose. Hooray! And my plans for this blog are to use it for my 'latest and greatest' hobby : Digital Scrapbooking!
I have grown VERY attached to MANY blogs out there dedicated to digi-scrapping.... and to all of you ladies - I send a warm "thank you" and a "please keep it up cause you rock!"
Up until May of 2007, I had never even HEARD of digital scrapbooking.... but now I can't imagine my life without it! Talk about an instant addiction. The only problem is finding the time to feed my cravings. I am the lucky mom of 4 young kiddos and the wife to a great guy. For some reason, my 2 toddlers don't quite understand yet that the computer is NOT meant to be used as a jungle gym when I am working on it.... go figure. Well, someday I'll find more time.... but for now, I am very content working with Kim Broedelet on her Creative Team and putting together layouts with my other kits when I get a chance. (So, yeah.... that's almost, um, like : NEVER)
As I learned to put together layouts, I discovered that I enjoy trying to create other things as well.... so don't be surprised when you find freebies here on my blog along with my layouts being shared.
Speaking of 'layouts'.... here is a brag book page I recently created :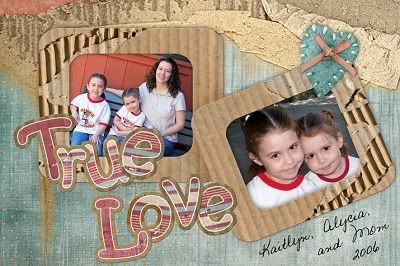 I used Kim Broedelet's "Lovable" Kit (which I adore!) and also the frames from her great "Groupies" kit.

Hope you like it..... and if you DO.... feel free to scoop up my first freebie here for you! I put together some Valentine's Day cards using Kim Broedelet's "Lovable" Kit. The cards are all in .png format and saved in brag book sizes. (And yes.... no worries... she gave me permission to pass out the freebies! Yay!)

Here is the freebie preview:





And here is the download link:
(This link has expired)

I hope you come back and visit again soon! Thanks for reading my FIRST POST EVER! (I'll get the hang of this whole 'blogger thing' eventually! Right now it's kind of sucking my will to live! LOL! Just kidding.... well, kind of.... it IS confusing for me for some reason! Aaaah!)