I have absolutely NO idea how that time warp shuttled me from my last posting day instantly to today.... I swear it hasn't FELT like that long! LOL! I suppose that I don't have quite as much time in my life to allot for blogging as I was hoping. I am determined to get on here at least a few times per week though.... it's 'BLOG or BUST' I say! Hee hee hee...
So I'm sneaking in this pre-bedtime blog (pre-bedtime for ME - the kiddos are in bed -- in theory)listening to my son kick the wall between our office and his bedroom. I thought that this would probably be the best time to catch some kid-free computer time.
My son used to sleep soundly in his pack and play every night (and he would sleep stretched out across the SHORT way inside of it! he's a nut!) but as of a couple months ago, he's graduated into his racecar bed. Sounds cool eh? You'd want to sleep in a racecar bed if you had one right? My little guy LOVES to sleep with his feet against the wall (opposite of how you should lay down) and kick it. Or.... sometimes he likes to just sprawl out his whole body in front of the bedroom door and listen to the noises outside his room. Or.... he'll drop his blanket and insist on parental help to retrieve it. Or.... he'll twist and turn so much he will slide right off of his bed (which is toddler sized) and be so surprised that he'll start crying.
Oh, the goold old pack and play days.... where have you gone? LOL!
On a different topic...
I was pleasantly surprised to receive an email from
SUZANNE
who had fun making Valentines out of my first freebie here on my blog. She printed out the cards with pics of her
ADORABLE
granddaughter and is attaching them to goodie bags for her granddaughter's class! (And she's a 'healthy grandma' too - filling those goodie bags with raisins and banana cookies etc. She insisted that a 16 month old ramped up on sugar might not be advisable! LOL!) Here are how a few of her cards turned out.... isn't her little one a sweetheart?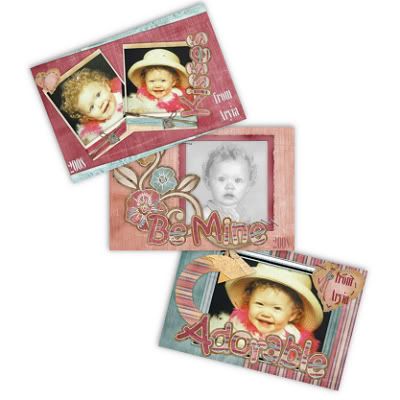 Thanks so much for sharing this with me
SUZANNE
! I got SO EXCITED thinking that somebody is actually using the freebies I posted! Yay!
And because I am still so in love with
Kim Broedelet's
new kit: "
Lovable
"... I made another freebie for you today from that kit. Kim included some wonderful butterflies inside "
Lovable
" - so I wanted to show them off... so here is the first of a couple pages I'll post here using them. Enjoy!
Here is the download link:
(This link has expired)
Thanks for stopping by again... it's off to bed with me now if my son will ever stop kicking the wall. (Good thing he's cute...)